संकट मोचन हनुमान अष्टक– Hanuman Ashtak or "Sankat Mochan Hanuman Ashtak" (संकट मोचन हनुमान अष्टक) was written by Tulsi Das ji, who was a great devotee of Lord Hanuman. It is believed that Sankat Mochan Hanuman removes all the obstacles from your life if you really chant this Mantra or Bhajan daily with full devotion. It is even more beneficial if you chant it on daily basis and not just for few days.
Generally people read it after Hanuman Chalisa. It is called Hanuman "Ashtak" – because it has 8 verses and Ashtak means eight. Its last line – "Begi Haro Hanuman MahaPrabhu Jo kachhu sankat hoe hamaro" means Oh lord Hanuman, Please remove all obstacle from our lives.
हनुमान अष्टक - Hanuman Ashtak- In Hindi
बाल समय रवि भक्षी लियो तब,
तीनहुं लोक भयो अंधियारों I
ताहि सों त्रास भयो जग को,
यह संकट काहु सों जात न टारो I
देवन आनि करी बिनती तब,
छाड़ी दियो रवि कष्ट निवारो I
को नहीं जानत है जग में कपि,
संकटमोचन नाम तिहारो I को – १
बालि की त्रास कपीस बसैं गिरि,
जात महाप्रभु पंथ निहारो I
चौंकि महामुनि साप दियो तब ,
चाहिए कौन बिचार बिचारो I
कैद्विज रूप लिवाय महाप्रभु,
सो तुम दास के सोक निवारो I
को नहीं जानत है जग में कपि,
संकटमोचन नाम तिहारो I को – २
अंगद के संग लेन गए सिय,
खोज कपीस यह बैन उचारो I
जीवत ना बचिहौ हम सो जु ,
बिना सुधि लाये इहाँ पगु धारो I
हेरी थके तट सिन्धु सबे तब ,
लाए सिया–सुधि प्राण उबारो I
को नहीं जानत है जग में कपि,
संकटमोचन नाम तिहारो I को – ३
रावण त्रास दई सिय को सब ,
राक्षसी सों कही सोक निवारो I
ताहि समय हनुमान महाप्रभु ,
जाए महा रजनीचर मरो I
चाहत सीय असोक सों आगि सु ,
दै प्रभुमुद्रिका सोक निवारो I
को नहीं जानत है जग में कपि,
संकटमोचन नाम तिहारो Iको – ४
बान लग्यो उर लछिमन के तब ,
प्राण तजे सूत रावन मारो I
लै गृह बैद्य सुषेन समेत ,
तबै गिरि द्रोण सु बीर उपारो I
आनि सजीवन हाथ दिए तब ,
लछिमन के तुम प्राण उबारो I
को नहीं जानत है जग में कपि,
संकटमोचन नाम तिहारो Iको – ५
रावन जुध अजान कियो तब ,
नाग कि फाँस सबै सिर डारो I
श्रीरघुनाथ समेत सबै दल ,
मोह भयो यह संकट भारो I
आनि खगेस तबै हनुमान जु ,
बंधन काटि सुत्रास निवारो I
को नहीं जानत है जग में कपि,
संकटमोचन नाम तिहारो Iको – ६
बंधू समेत जबै अहिरावन,
लै रघुनाथ पताल सिधारो I
देबिन्हीं पूजि भलि विधि सों बलि ,
देउ सबै मिलि मन्त्र विचारो I
जाये सहाए भयो तब ही ,
अहिरावन सैन्य समेत संहारो I
को नहीं जानत है जग में कपि,
संकटमोचन नाम तिहारो Iको – ७
काज किये बड़ देवन के तुम ,
बीर महाप्रभु देखि बिचारो I
कौन सो संकट मोर गरीब को ,
जो तुमसे नहिं जात है टारो I
बेगि हरो हनुमान महाप्रभु ,
जो कछु संकट होए हमारो I
को नहीं जानत है जग में कपि,
संकटमोचन नाम तिहारो I को – ८
दोहा
लाल देह लाली लसे , अरु धरि लाल लंगूर I
वज्र देह दानव दलन , जय जय जय कपि सूर II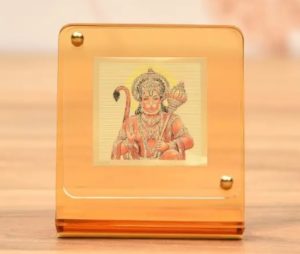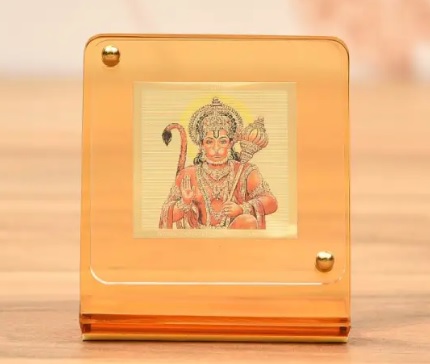 Hanuman Ashtak- Benefits
(संकट मोचन हनुमान अष्टक के फायदे )
"Hanuman Ashtak" is a Great Obstacle Remover and ensures blessings of Lord Hanuman in your Life. Hanuman Ashtak is powerful Bhajan which brings peace to your life, protects you from all the obstacles, tentions, pains, diseases etc. In 7 verse, Tulsi Das ji has written few popular instances about Lord Hanuman ending with – " Ko Nahi Janat Hai Jag me Kapi, Sankat Mochan Nam Tiharo" which means, Oh Lord Hanuman, Who doesn't know in the word that your name is Sankat Mochan (Obstacle Remover). 
In last 8th Verse of Hanuman Ashtak, he has requested Lord Hanuman that Oh lord, you have done enough help of Gods and even Shri Ram, Now please tell me Lord Hanuman, which obstacle is so great that you cannot remove it, certainly you can remove all the obstacles of my life. It also helps in Education related obstacles. Removing overall problems, it ensures Overall Success to your life.
Now you can easily understand the importance of Hanuman Ashtak and importance of Lord Hanuman in our Lives.
Chant Hanuman Ashtak with full confidence and devotion in Lord Hanuman, You will find Peace in your mind, life and family. Hanuman Ashtak will surely proved to be a protector for you.
"Hanuman Ashtak" in Hindi - Sankat Mochan Hanuman Ashtak by TulsiDas Ji, Original Guide, Facts and Benefits - "हनुमान अष्टक"
Downloadable Image Hanuman Ashtak- In Hindi
Facts you should know about "Hanuman Ashtak" - संकट मोचन हनुमान अष्टक
Hanuman Ashtak is written by Saint Tulsi Das. 
Ashtak means 8, Hanuman Ashtak has 8 verses
Popular Store – Buy Hanuman Chalisa, Hanuman Ji Idol, Hanuman Lockets etc – Home Delivery in India
It will be a Reasonable Occasion Gift for your Dear Ones, It is certainly a Best Festival Gift Option of Spreading Happiness, Perfect Corporate Gift, Size : 7 x 8 x 1.8 cm, Package Contains: 1 Hanuman Chalisha + Free Gift 1 Panchmukhi Hanuman ATM Card(energized
Hanuman
Locket
925 Sterling
Silver
Sterling Silver Locket – Size may differ, Weight approx 3 grams, can be worn by both men and women. 
Customised
Name
Plate
Engraved
Fully customisable, you will be able to Personalise it and get it engraved on it, Excellent product, Engraved Name plate, Easy to install on the main gate of your house or wherever you want.
Looks Really beautiful and will come with necessary screws etc.
Hanuman
Car Dashboard Idol
Car Dash Board Idol of Lord Hanuman, It is believed that Lord Hanuman protects you from all mis happenings etc, If you are really a Hanuman Bhakt, you may consider to use this idol on your car dashboard, also you can use it in your temple etc. Its a perfect gift also to your family members.